The OSET 24.0 Racing -  Possibly the most fun electric dirt bike ever created for adults and 11+ youth!
A powerful  OSET motor, controller and battery have been designed to work in unison on this machine. Very few components are shared with other OSET's. This is truly a ground up design that takes OSET into new territory and new heights.
The OSET 24 Racing is aimed at the Junior and entry level trials market, and is able to compete in the all Junior Classes 7-U11, 9-U13, 12-U16 & Senior Clubman and C Grade classes. It features 17" x 3.5" rear and 19" x 2.5" front trials tyres. The rear wheel offers superior traction for competition trials situations. The suspension is set up for young riders with a recommended maximum weight of 61kgs but optional springs take it up to 91kg riders, and there is an optional 19" rear wheel for those MTB Trail blasters and trick riders out there!
This is NOT just a trials bike for Juniors and can be sprung for adults up to 90kg. This is possibly the most fun electric bike ever created, and appeals to a vast range of ages and riding interests. From youth and adult trials riders, to mountain bikers, to parents following their youngsters, to a cool pit bike, to a back garden training machine. This machine suits so many!
THE OSET 24 RACING IS FOR TEENAGERS, ADULTS AND ALL PLAY RIDERS, THIS BIKE OFFERS THE MAXIMUM ENTERTAINMENT VALUE.
The OSET 24 Racing features high end components, from the 20ah high output genuine OSET Yuasa lithium battery, to the adjustable full-length RST forks, DNM rear shock and SRAM hydraulic brakes with a 180mm discs front and rear. Motorcycle rims are strong and light to take some serious riding. The motor is a new 1400w OSET unit with hardened sprockets and strong chain. The OSET controller is a high-power unit and features the familiar 3-dial adjustability, so the power, speed and response are fully adjustable to suit the rider. The OSET magnetic lanyard adds a level of safety and is competition legal.
The 24 Racing is unbeaten against the 80cc geared bikes in back-to-back D-Class Medium wheel UK National competition. It is the perfect step up from the 20.0R.
At the same time, the adjustability allows the bike to be used in more gentle situations, with learner riders taking their first steps into the world of motorcycles.
The OSET 24 Racing – a machine for the future – right now!
RRP$6300
*Note: All prices are GST inclusive and now include delivery**, PDI & Assembly. **Delivery to dealer or business adddress.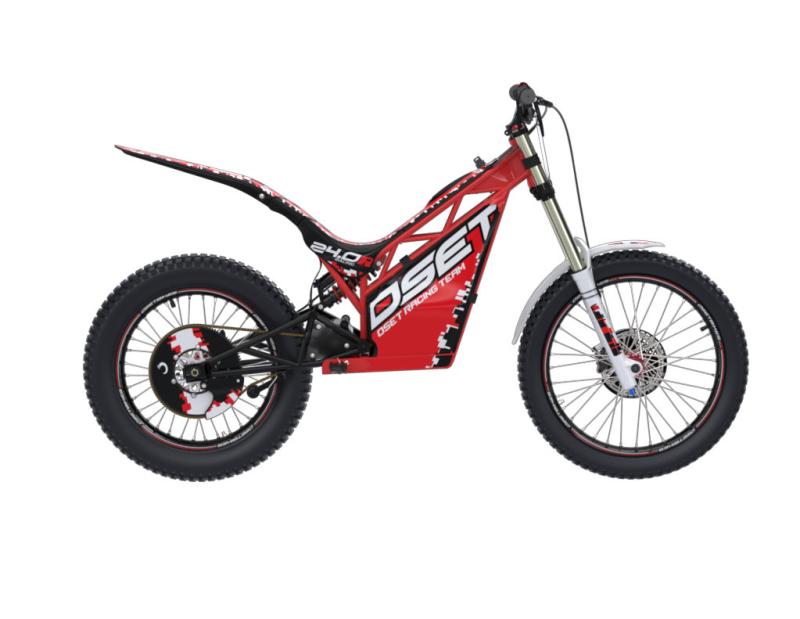 Technical data
Wheelbase - 1215mm
Seat Height - 670mm
Handlebar Height - 1090mm
Ground Clearance - 315mm
Weight - 51kg
Suspension -
Front - Coil sprung triple clamp fork, magnesium lowers, cartridge damper. 200mm travel. Rebound & compression adjustment.
Rear - Coil Sprung Gas Piggy Back, Rebound & Compression adjustable, oil damped rear shock, 200mm eye to eye. 165mm wheel travel.
Set-up for up to 61kg rider (options up to 91kg)
Brakes - SRam Level TL Hydraulic Dual Piston Caliper - 180mm Disc
Age Range - 9+ (up to 61kg std or 90kg with optional springs)
Motor - 1400W 48V OSET neodymium magnet DC motor
Controller - 48V OSET with thermal cut-out, adjustable for power, speed & response.
Batteries - 1 x OSET Genuine 20Ah, 48V Lithium battery, with OSET HP 2amp charger
Wheels - Front 19x2.5" , Rear 17x3.5 (Option Rear 19"x2.5")
Alloy rim/hub, Vee Rubber Trials Tyres
RRP - AUD$6300*
*Note: All prices are GST inclusive and now include delivery, PDI and Assembly when purchased through a dealer.
Find your nearest dealer