The OSET 16.0 Racing is a dream machine for 5-7 year old's, and the bike of choice for edging into competitive riding.


The OSET 16.0 Racing is the bike of choice for parents and riders taking part in their first trials events and OSET Cup competitions. From the tires to the handlebars - the bike is covered in custom parts designed by OSET specifically to suit young riders. The 16.0R is a bike bike that is functional, ergonomically correct, and able to grow with the rider.
The 16.0R is simply the best bike for children from 5-7 to learn and improve their motorbike skills. Being electric there are no hot parts, no petrol, and are virtually silent - meaning riders can use them every day in places other bikes cannot go. It's no coincidence that used OSETs retain an exceptionally high resale value. These machines are built to last.
Key Features:
800w OSET motor, air/spring forks, compression and rebound adjustable shock,
Powerful and 'reach adjustable' hydraulic disc brakes and custom OSET designed Kenda tyres with a different profile for the front and rear.
Alloy hubs, handlebars, steering stem, foot-pegs and more ensure that weight is kept to a minimum.
High quality bearings are used in the headset, swingarm and wheels.
Sturdy steel frame combines with all other components to make a bike that will be good for years of use. 
Magnetic cut-out switch with lanyard, ensure safety first.
A separate key switch is easily removable by the parent when it's time to take a break!
OSET controller has been designed for our exclusive '3 dial' system, which allows parents to easily adjust the power, speed and response characteristics of the bike. 
It can be set from a very mellow machine at walking pace and low power, all the way up to a competition level machine with maximum power.
For riders aged 5 - 7 
RRP: £1,899.00
"My son got his first OSET at 3. It was a 12.5. He has since moved up to an OSET 16.0 R -  What fabulous bikes! The OSET 16.0 R was so amazing that I bought a 24.0 R for myself. I'm so impressed with the build quality of all 3 bikes. Keep up the good work guys!" - Jess Lorentzen, Iowa, USA.
The OSET 16.0R is typically 'OSET' - great for learning skills, but enormous fun! It's a bonus that the bikes are cheap and easy to maintain, and hold an incredibly high resale value.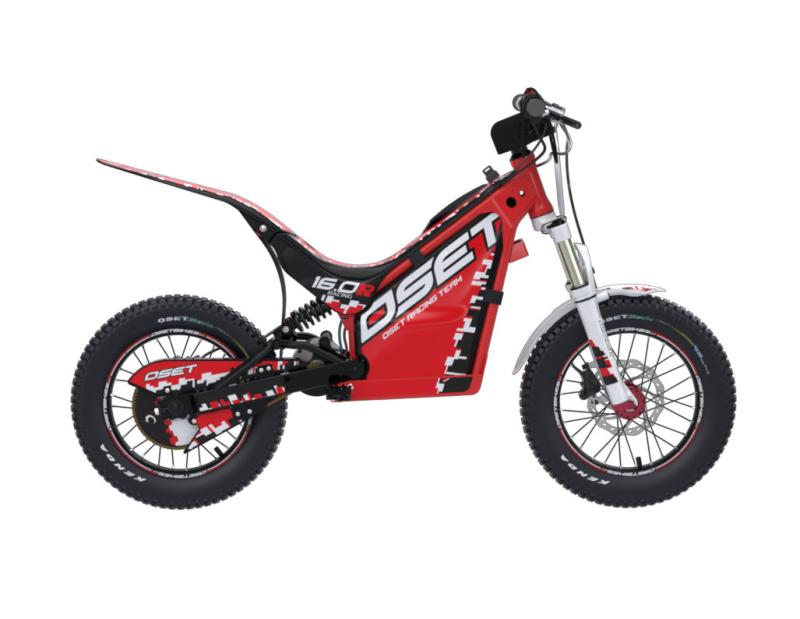 Technical data
Wheelbase - 904mm (35.6")
Seat height - 480mm (18.9")
Ground clearance - 230mm (9.0")
Handlebar height - 860mm (33.9")
Wheels - 16.0'' alloy rims/hubs with OSET Kenda 2.7'' F & 2.5'' R tyres.
Suspension - Front telescopic fork, air/spring adjustable. Rear shock, preload adjustable.
Bike Weight - 33.2kg (73.17lbs)
Brakes - Front & rear 160mm hydraulic disc.
Motor - 800W 36V OSET neodymium magnet DC motor.
Controller - 36V OSET, adjustable for power, speed & response.
Batteries - 3 x 10ah AGM SLA.
Charger - 2 amp 36V.
Age Range - 5-7 years old.
Rider Weight Limit - 80lbs (36.5kg)
RRP - £1,899.00
Find your nearest dealer